Chemical and Biological Engineering professor Dr. Wenzhen Li has been recognized as the department's inaugural Richard C. Seagrave Associate Professor.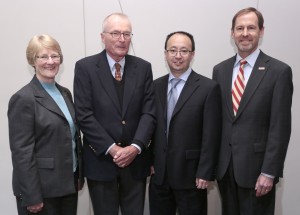 Dr. Li was joined in the ceremony by many individuals, including Donors Randy and Mary Jane Hagenson, honoree Richard ("Dick") Seagrave, Iowa State University Senior Vice President and Provost Jonathan A. Wickert, Dean of the College of Engineering Sarah Rajala, and department alumnae Lanny Robbins and Wayne Dunshee, who are among additional contributors to the professorship.
The Seagrave Professorship was established by Iowa State engineering alumnae Mary Jane and Randy Hagenson to honor the lifelong impact that Seagrave, Anson Marston Distinguished Professor Emeritus of Iowa State's Chemical and Biological Engineering faculty, has had in his profession, as well as the lasting influence he has had on the people that know him well. Seagrave pursued his career well beyond the scope of chemical engineering.
Li's research area of specialty deals with using electrocatalysis and electrochemical processes and systems for advancing clean and sustainable energy resources through such things as fuel cells and biorenewable fuels. He said he is honored to be bestowed with a professorship in honor of Seagrave, who was a pioneer in the development of biomedical engineering at Iowa State, among many other accomplishments. "He was an excellent teacher, advisor and administrator. Now, nearly 50 years after he came to Iowa State, we face unique challenges in many areas, such as developing new energy systems. His vision and spirit will motivate me in my work. And the professorship in his name will also help me to bring in talented students to work with and mentor. We will work hard to use this honor to advance the prominent research position of Iowa State."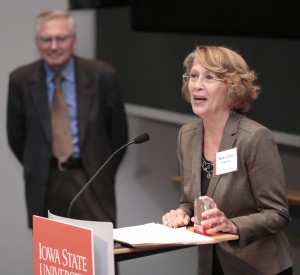 "The Hagensons had the great vision to honor Richard Seagrave is a lasting way," said Provost Wickert. "They are part of the Cyclone family and it is very appropriate that we are holding this ceremony during Homecoming week."
Mary Jane Hagenson received a B.S. in physics from Iowa State in 1974 and then, under the guidance of Seagrave, received an M.S. and Ph. D. in biomedical engineering in 1976 and 1980, respectively. Randy received a B.S. in electrical engineering in 1972, and an M.S. and Ph.D. in nuclear engineering in 1973 and 1978, respectively. "But, it is people who make the difference," Mary Jane said in her remarks at the ceremony, citing Seagrave's support as making a large impact on her life and the lives of many others. She and Randy were married when she was a freshman at Iowa State and the couple had their first child when Mary Jane was a sophomore. "I was a very non-traditional student," she said, when she expressed an interest in studying biomedical engineering with Seagrave. "If not for Dr. Seagrave and his willingness to do something outside of the envelope in allowing me in, we never would have gotten as far as we did in life," she remarked. In that spirit, the Hagensons had earlier created the Skogen-Hagenson Scholarship to benefit students majoring in chemical engineering at Iowa State, with special consideration given to students facing challenging circumstances or who are not receiving other scholarship support.
Dr. Li began his work with Iowa State's Department of Chemical and Biological Engineering in 2014 as an associate professor. He also serves as an associate scientist within the Department of Energy's Ames Laboratory. Prior to Iowa State, Dr. Li taught within the Department of Chemical Engineering at Michigan Technological University. He is a member of the Electrochemical Society, American Chemical Society, and American Institute of Chemical Engineers. He has over 70 peer-reviewed journal papers with more than 7,600 citations, has participated in more than 30 conferences and/or invited talks since 2008, and is listed as a contributor for five patents.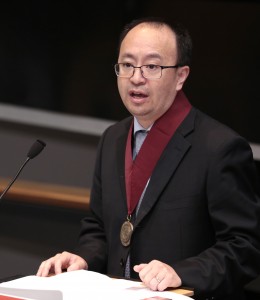 Dr. Seagrave joined the Iowa State faculty in 1966 as an assistant professor of Chemical Engineering after receiving his M.S. (1959) and Ph.D. (1961) in Chemical Engineering from ISU. He was named professor in 1971 and Anson Marston Distinguished Professor of Engineering in 1982. Serving the university in a variety of roles, Seagrave has been professor-in-charge of ISU's biomedical engineering program, chair of the Department of Chemical Engineering, interim director of the Iowa State University Computation Center, interim provost, and interim president. Throughout his career he served as an advisor for more than 300 undergraduates in Chemical Engineering and numerous graduate and Ph.D. students, regardless of what role he was in. "Even as interim president he continued advising, and his door was always open to his students," remarked Provost Wickert.
Seagrave is the recipient of numerous honors and awards, including: Iowa State's Margaret Ellen White Graduate Faculty Award in 1995; the ISU Presidential Service Award in 1998; Iowa State's Thomas B. Thielen Award in 1998; the Carnegie Foundation for the Advancement of Teaching/Council for the Advancement and Support of Education (CASE) Iowa Professor of the Year in 2000; and the ISU Order of the Knoll Staff Excellence Award in 2004. He has also won the Outstanding Teaching Award in chemical engineering more than ten times.
"We are in the business of changing and improving lives," remarked Seagrave, "Whether through research, teaching or mentoring. Everything we do has a profound effect on our students."