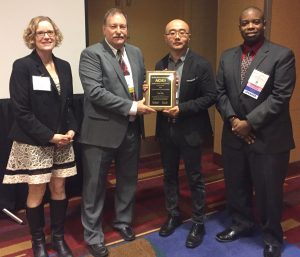 Dr. Yue Wu, Herbert L. Stiles Associate Professor of Chemical and Biological Engineering, has been honored at the American Institute of Chemical Engineers (AIChE) Annual Meeting in San Francisco. He was presented with the group's prestigious Nanoscale Science & Engineering (NSEF) Young Investigator Award.
The honor recognizes outstanding interdisciplinary research in nanoscience and nanotechnology by engineers or scientists in the early stages of their professional careers. Wu was also scheduled to present an award lecture in the meeting's NSEF Plenary Session: "Chemical Engineering Principles for Nanotechnology."
Wu's group addresses the challenges in broadly-defined bulk nanostructured composite materials, with a particular interest in the exploration of new applications of novel nanomaterials towards the highly-efficient harvest, storage, manipulation, and conversion of thermal energy. His current research is well supported by Department of Defense funding agencies, including one project from Defense Advanced Research Projects Agency (DARPA) and two projects from the Office of Naval Research.
He has published more than 22 papers in the area of novel thermoelectric materials. He has more than 57 total publications to his credit, many in high-impact journals. His personal H-index is 27 with a total citations over 8,300 times. He was also named a "Rising Star" by the Council of Chemical Research in 2015 and was selected by the Royal Society of Chemistry's Journal of Materials Chemistry A as one of the "2014 Emerging Investigators."