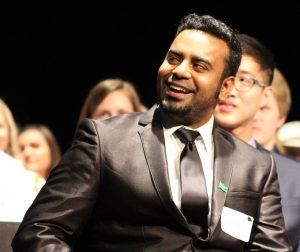 The Department of Chemical and Biological Engineering honored its undergraduates in the traditional Pre-Commencement Reception the morning of May 6. Students, family members and friends came together for a buffet breakfast and ceremony at Iowa State's Fisher Theater.
A total of 80 spring semester graduates and 14 summer session graduates are wrapping up their chemical and biological engineering curriculum and taking the next step in their lives. Spring graduates will be embarking on new careers with numerous companies around the nation and in foreign countries, working in areas and positions such as manufacturing, food products, process control, water quality, pharmaceuticals, personal care products, agricultural products, chemical production, biomedical engineering, petroleum products, grain processing and more. Others will enter graduate school.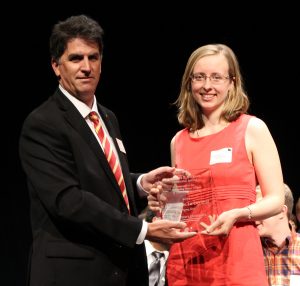 Graduate Catherine Le Denmat was honored as the department's Lawrence E. Burkhart Outstanding Senior and addressed those in attendance.
In addition to undergraduates a total of 11 students are also receiving graduate degrees in spring semester or summer session.
CBE congratulates all its spring and summer graduates, wishes each one well in their future endeavors and invites each one to maintain a relationship with the department as alumni.