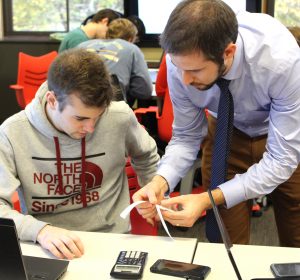 Chemical and Biological Engineering undergraduates in professor Nigel Reuel's Computational Methods in Chemical Engineering class learned about functioning as a team under time constraints with a recent exercise that involved applying design of experiment (DoE) principles to create the optimal paper helicopter.
The debut of the activity turned teams of students loose with paper, scissors, a diagram and instructions to perform such tasks as identifying three significant design variables, creating a response surface design, collecting time of flight data, and fitting the data to a quadratic model to identify the optimal design, all in an hour time period. Helicopter models were crafted and dropped while their descents to the floor were timed by team members. Each team then offered up their best model in a face-off where the last helicopter to hit the floor was the overall winner.
Reuel said the teams of students have been working together on other assignments in the class this semester as well. Referring to the groups as "start-ups," Reuel puts together students with similar career sector interests and allows them to function as teams in many ways both inside and outside of class to simulate real-world scenarios in team-based engineering work. The winning team on this day was the agricultural engineering-oriented group.
See more photos on the CBE Facebook page.