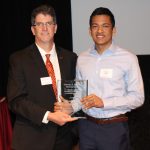 CBE graduates started their commencement day experience by taking part in the traditional department pre-commencement reception at the Scheman Building's Benton Auditorium.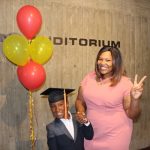 Family members and friends joined graduates for the breakfast reception, followed by the official ceremonies. Akash Mitra, who received the department's Lawrence E. Burkhart Outstanding Senior Award for this commencement, was recognized and spoke to his fellow graduates. Grads shared a favorite memory of their time in the department and relayed their future plans, which for many include immediately entering the work force with a wide range of employers. Others plan to travel,  return to their home countries or enter graduate school for such pursuits as chemical engineering, biomedicine, medical school or law.
In total, 89 undergraduates have received their diplomas this semester, with seven additional students to graduate this summer. A total of 13 chemical engineering graduate students are also receiving degrees, spring and summer semesters combined.
View a photo album of the reception on the CBE Facebook page, www.facebook.com/IowaStateCBE/
CBE wishes all its graduates the best in their future endeavors.