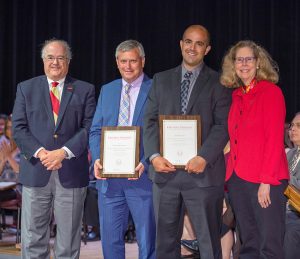 Department of Chemical and Biological Engineering professor Eric Cochran was honored for receiving the Award for Achievement in Intellectual Property at the recent university awards ceremony.
The award recognizes individuals or teams of faculty or professional and scientific staff for outstanding university-based achievements in producing intellectual property. Chris Williams, professor of civil, construction and environmental engineering, who worked in partnership with Cochran in developing Iowa State's Bio-Polymer Processing Facility at the university's BioCentury Research Farm, also received the award, which related to developments at that facility. The significance of the intellectual property is demonstrated by its being licensed and used by industries both within and outside of the state of Iowa.
Cochran, who is also the department's director of graduate education, focuses research on polymeric systems and polymer chemistry. He was the driving force behind the recent launching of the department's Small Angle X-Ray Scattering (SAXS) device in Sweeney Hall, which will aid not only chemical engineering research, but research by other departments and other universities. He received his B.S. in chemical and biological engineering from Iowa State in 1998, and joined the department as faculty member in 2006.
It was the second award for the team of Cochran and Williams in a week, as they were also honored at the College of Engineering Convocation for a patent process at the Bio-Polymer facility.
CBE congratulates Cochran on this honor and wishes him continued success as a researcher, educator and mentor.
See the full list of College of Engineering award recipients at the September 14 ceremony here.