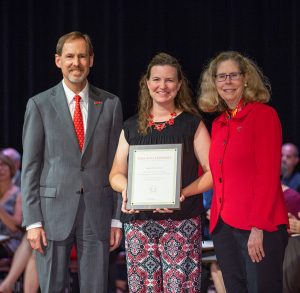 Department of Chemical and Biological Engineering senior lecturer Stephanie Loveland was honored for receiving the Award for Outstanding Achievement in Teaching at the university awards ceremony September 14. The award recognizes faculty members for outstanding teaching performance over an extended period of time.
Loveland has been a part of the department's faculty since 2002. She received her B.S. (1998), M.S. (2002), and Ph.D. (2008) in chemical and biological engineering from Iowa State. She teaches undergraduate chemical engineering lab course work, including lab safety instruction, and is one of the organizers and faculty sponsors of the annual study abroad program in Oviedo, Spain. She is also the faculty advisor for the Iowa State student chapter of the American Institute of Chemical Engineers (AIChE).
CBE congratulates Loveland on this honor and wishes her continued success in being an educator and mentor to our undergraduate students.
See the full list of College of Engineering award recipients at the September 14 ceremony here.