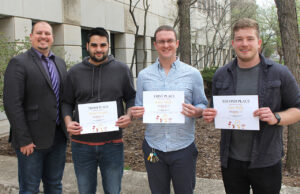 For the second consecutive year the clock and research presentations shared the spotlight for graduate students in the Department of Chemical and Biological Engineering, in the Perfect Pitch competition.
All chemical engineering graduate students who have completed their preliminary oral exams for their degrees presented their research projects to students, faculty and staff under a strict three-minute time limit. One Power Point slide could be used with the presentations.
The students vied to be among the top three finishers in judging by selected individuals in attendance. Those three have now been announced:
First place – Adam Mullis, "Nanomedicines to Counter Antimicrobial-Resistant Infections," major professor Balaji Narasimhan
Second place – Sean Kelly, "Polyanhydride Nanovaccines Against Biodefense Pathogens," major professor Balaji Narasimhan
Third place – Umar Hamdeh, "Solution Processed Bismuth Halide Semiconductors," major professor Matthew Panthani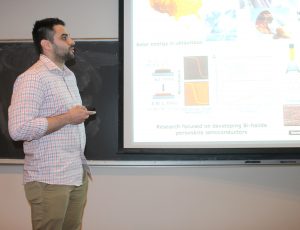 Mullis receives a cash prize of $150, Kelly receives $100 and $50 goes to Hamdeh.
Judging of the presentations focused on:
What is the real-life problem your research addresses?
How does your approach uniquely solve the problem?
What is the potential impact if your research is successful?
Quality of the visual aid and overall presentation style were also considered
The goal of the competition is to help students get comfortable with answering comments such as, "So, tell me about your research" from many different individuals. "They will need to learn to talk about their research with many different types of people, including students, policy-makers and the general public," said assistant professor Tom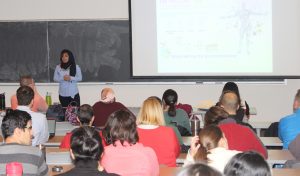 Mansell, who coordinated the competition, and made an effort to have individuals not routinely exposed to research be part of the evaluation team. "It's important to have a wide range of evaluators viewing the presentations, because not everyone the students will ever present their research to will be a scientist," he said.
Mullis, Kelly and Hamdeh will now be eligible to compete in Iowa State's "3-Minute Thesis" competition in the fall of 2019, going against students from many disciplines around the ISU campus. The last round of that competition saw chemical engineering graduate student Rainie Nelson take first place.