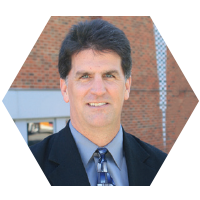 Dear Alumni and Friends,
Hello from Iowa State University's Department of Chemical and Biological Engineering. We hope you enjoy this year's installment of Active Site, our annual departmental newsletter. You may notice that this edition has a slightly different look and feel than previous versions. I hope you like it. Thanks to the efforts of the communications team in the department and the College of Engineering for doing such a wonderful job with this document.
Inside this issue you will find a variety of stories, information, and updates from various aspects of the department. Read about the future of faculty-led research center efforts (CBiRC), accomplishments of our graduate students involved in research (Nanovaccine), exciting faculty research projects (Jarboe, Panthani), efforts to promote lab safety (Beckman), new leadership roles (Cochran), words of wisdom from prominent alumni (Ryerkerk), highlights from undergraduates participating in international adventures (Oviedo) and competitions (Chem-E-Car), tales of career passions (Jolls), and new alumni adventures (Baxter). Those alumni currently serving on the department's Advisory Council are highlighted, along with a selection of recent publications from our faculty's research efforts. As always, we recognize the scholarships and fellowships awarded to our students, and also acknowledge the generosity of our donors for making these awards available.
Let me take this opportunity to express my sincere thanks and appreciation to our many friends who have supported our mission. The generosity of our alumni and other donors has allowed us to support a great many efforts in the department, ranging from undergraduate scholarships and named faculty positions to building renovations and research facilities. Thanks all of you for your generosity and friendship. You are a major factor in the success of Iowa State and the Department of Chemical and Biological Engineering.
I hope you enjoy reading this issue of Active Site. Please send me any comments, updates or suggestions you have for future issues (hillier@iastate.edu), or to just send a greeting. Let me also take this opportunity to invite you back to campus. If you get a chance to stop by Sweeney Hall, please come in and say hello. I would be delighted to visit with you and give you a tour.
My warmest wishes to all of you for a happy, healthy and productive year.
Go Cyclones,
Andrew C. Hillier
Professor and Reginald R. Baxter Endowed Department Chair