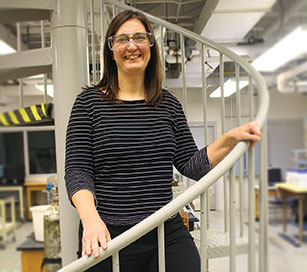 Sarah Beckman has returned to Iowa State to join the Department of Chemical and Biological Engineering as a laboratory supervisor. Beckman graduated from Iowa State in 1999 with a concurrent B.S. in ceramic engineering and M.S. in materials science and engineering.
"I've enjoyed being back at Iowa State University," Beckman says. "The energy of the students and the timelessness of the campus make it feel like a lot less than 20 years since I graduated."
Beckman will work with CBE faculty and students in the areas of teaching laboratories, shared research laboratories and lab safety.
"If the students can cultivate an awareness of the risks inherent in the activities around them, feel compelled to stop and speak up when things don't seem right, and are trying to continuously improve their safety practices, I will feel like we have successfully trained them for future employment," Beckman said.