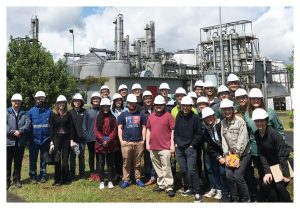 It's a demanding program. But one many participants describe as the high point of their chemical and biological engineering experience at Iowa State – the Oviedo, Spain Summer Lab Program.
Eight students who recently returned from the 2019 Iberian adventure can now add themselves to the long list of students who have benefited from the trip: Danniel Arriaga, Tyler Franke, Yi Hua Heng, Kyle Jackson, Logan Mayberry, Tim Schwanbeck, Kristian Shipley and Kevin Shoucair.
Each student was able to take part in this year's program with scholarships available through the Hershel B. Whitney Global Initiatives Program. Established in 2018 and named in honor of the late Whitney, a 1949 graduate of the department, the assistance can play a large role in student participation.
"The Whitney scholarship solidified my decision to do this," says Mayberry. "I want to extend my appreciation to the kind donors because they have truly left a positive impact on my life through their generosity."
"Without this scholarship," says Jackson. "I would not have had the chance to do any of this international engineering learning and exploring."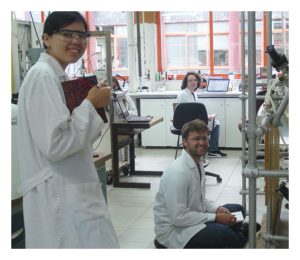 The program utilizes the facilities and faculty of the University of Oviedo in northern Spain. It also includes students from the University of Wisconsin-Madison. The intensive five-week course serves up the equivalent of two different chemical engineering lab courses with hands-on experiments performed in teams, along with regular written reports and an oral presentation.
"There is lots of work and lots of sleep deprivation," says associate professor Kaitlin Bratlie, who served as the faculty mentor on the trip for the first time.
She pointed to the industry tours that are also part of the program as an excellent learning opportunity for the students. A bioethanol plant, a dairy (which makes milk lactose-free, performs spray-drying for dried milk and creates infant formula), and a Bayer facility that produces 90% of the world's aspirin supply were on this year's agenda.
There's also time for sightseeing, which includes visits to landmarks such as the cathedral of Santiago de Compostela, and the many natural attractions. "The beauty of the Asturias region (where Oviedo is located) just blew me away," says Mayberry. "From jagged mountains in the Picos de Europa to small coastal fishing villages."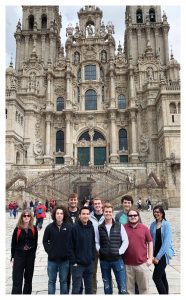 Though the pace of the lab program is daunting, most students find the experience highly valuable for helping them prepare for life after graduation – both in work and in personal life.
"We got the chance to do hands-on learning and apply what we were learning," says Jackson, who added, "The trip really showed me how much diversity exists in other parts of the world."
"I learned how to create figures that are simple and easy to understand. That's a valuable skill set for chemical engineering students whether going into industry or academia," says Mayberry.
"The program was a truly amazing experience," says Jackson. "I had the chance to make new friends and experience a new culture. I could not have been happier with my choice to take part."
"I think many of them wished it could have lasted longer," says Bratlie.
Thanks to the Hershel B. Whitney Global Initiatives Program, scholarship support will continue to be provided for all students who participate in this summer lab.