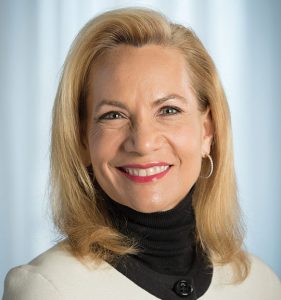 "A great experience before getting out into the workplace!" Those words about Iowa State's Department of Chemical and Biological Engineering curriculum are from alumna Lori J. Ryerkerk (B.S., 1983). Her new workplace is the CEO's office of Celanese Corporation in Dallas, Texas.
Celanese is a Fortune 500 global leader in specialty materials and chemical products used in most major industries and consumer applications. Ryerkerk was named chief executive officer, and a member of its board of directors, in May of 2019. Her three-plus decade journey in the energy industry began at Iowa State as a chemical engineering undergraduate in the early 1980s.
"I had a pretty short, but intense, stint at Iowa State," she says. "I transferred from a community college and I finished my chemical engineering degree in two years. I took engineering courses, organic and physical chemistry. Most of my professors had industry work experience of some sort and were able to relate what we were learning into practical examples and applications. We had a chemical engineering lab that was very hands-on, and I also did the summer session at University College London, which was very intense lab work and had visits to U.K. industries and facilities."
Ryerkerk also took advantage of a study group, which she says, "Taught me valuable skills in working as part of a group and learning from my peers."
Chemical reactions comes in first as her favorite ISU CBE class, "And," she says, "I used that pretty extensively in my first few years of work."
But not unlike many students who have been through the ISU chemical engineering program, there were a couple of faculty members who really stood out as ones who had a great influence on her experience: "I was fortunate enough to have Maurice Larson, then head of the department, as my academic advisor. He was great in helping me get through and graduate in two years.
"I'm also thankful to Terry King. I graded papers for Dr. King and it was probably his influence, more than anything, that convinced me to go to work in the oil and chemical industry, which is how I got where I am today!"
Having spent her days as a chemical engineering student in the early 1980s when female students were in a significant minority, Ryerkerk was, and still is, keenly aware of the importance of diversity in university engineering programs and in the field itself. "I think it's very important that we continue to get more women into engineering," she remarks. "Research has proven that companies with more diversity have better financial results, and my own experience reinforces this. The most successful teams I have had were diverse – women, men, different nationalities, different personalities, different ways of working; lots of different opinions and backgrounds which often led to long discussions and debate. But as a result we ended up with better, more creative solutions. And since engineering requires creative problem solving, it only makes sense that we need to encourage a wider, more diverse population in our universities and in our businesses.
"I also think it's an incredibly rewarding career for women – intellectually stimulating, results focused and financially rewarding. It provides an excellent platform to develop collaboration and leadership skills and can open many other doors into other businesses and roles."
Prior to joining Celanese she was executive vice president of Global Manufacturing at Shell Downstream, Inc. (a division of energy and petrochemical giant Shell Global), where she led a team of 30,000 employees and contractors at refineries and chemical sites worldwide. She also worked for Hess Corporation and for ExxonMobil for 24 years.