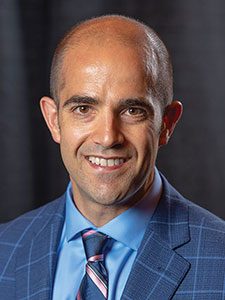 Department of Chemical and Biological Engineering professor Eric Cochran has been named director of the Center for Bioplastics and Biocomposites (CB2), which is based at Iowa State University. He had previously served as the center's deputy director.
CB2 serves as a National Science Foundation (NSF) Industry & University Cooperative Research Center (IUCRC), which helps build partnerships between industry, universities and policymakers to promote the development of bioplastics and biocomposites, which are materials derived from natural, renewable sources such as biomass. "The IUCRC reduces the element of risk for companies involved in university research," Cochran explains.
As part of his duties as director Cochran will be responsible for growing membership in CB2 with those very companies. Current industry members of the center include 3M, ADM, Boehringer Ingelheim, Ford, Hyundai Motor Group, John Deere, Kimberly-Clark, Sherwin Williams and others. Members receive priority access to technical data developed by the center, access to world-class facilities and researchers and reduced overhead costs for research.
The NSF supports centers such as CB2 by providing a graduated funding plan. CB2  was launched in 2014. It has hosted a research experience for undergraduates program since 2017.
CB2 includes a number of Iowa State University faculty members and researchers, including Balaji Narasimhan, Jean-Philippe Tessonnier and Nacu Hernandez from CBE.