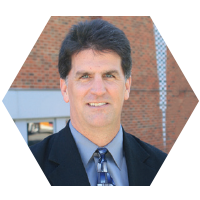 Dear Alumni and Friends,
Warm greetings to all from the Department of Chemical and Biological Engineering at Iowa State University. We hope that you enjoy this 2020 installment of ActiveSite, our annual departmental newsletter.
What a year it has been. Last fall, we were enjoying a typical autumn in Iowa. We had a bustling campus full of students, staff and faculty hard at work in our classrooms, laboratories and offices. Little did we know that in just a few short months, our world would get upended by a global pandemic and we would experience a nationwide movement for racial equality and social justice.
In response to the pandemic, in March of 2020 we converted all of our classes to online and students were sent home to finish the spring semester remotely. This obviously created quite a challenge for everyone involved. You can read about some of the impacts on our activities and the remarkable job everyone did to respond to these challenges in a series of stories in the section: Addressing The Unexpected.
Despite the pandemic, we have kept busy and have moved forward with research and teaching. You will see some of this highlighted on the pages within. Several faculty and their research are described, including a story about the challenging problem of droplet breakup (Droplet Research – Vigil, Fox and Olsen), efforts to produce biofuels and bioproducts (Nonconventional Yeasts – Shao), and highlights from the research of our award-winning young faculty related to the gut microbiome (CAREER award – Mansell), advances in two-dimensional materials (Si Nanosheets – Panthani), and development of an inexpensive and disposable COVID test (COVID Testing – Reuel). You will also see an article featuring two of our current faculty and one of our Hall of Fame alumni on women in chemical engineering (Women in ChE). A new version of undergraduate research with an industrial twist is highlighted (A New Flavor – Kaiser). You will also see a selection of many of the recent awards to our outstanding students, alumni and personnel, and pictures from various events.
Thanks to all of our many friends for your continued support of our program and people. Your friendship and generosity is critical to so many important efforts, including recruiting and retaining the very best students, staff and faculty, providing state of the art facilities for teaching and research, providing financial assistance to students through scholarships and fellowships, and supporting all sorts of new initiatives to support our mission of world leading research and education.
Please send me any comments, updates or suggestions you have for future issues of ActiveSite (hillier@iastate.edu). Let me also take this opportunity to invite you back to campus. I would be delighted to host you once we have this pandemic in our rear view.
Be safe, be well, and share my warmest wishes to all of you for a happy, healthy and productive year.
Go Cyclones!
Andrew C. Hillier
Professor and Reginald R. Baxter Endowed Department Chair