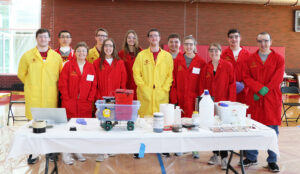 Iowa State's student chapter of the American Institute of Chemical Engineers (AIChE) hosted the group's Mid-America Student Regional Conference April 8 and 9 – rolling out the red carpet for students from 12 other schools and taking some top honors of its own.
The Department of Chemical and Biological Engineering (CBE) AIChE student group organized competitions, technical presentations, an awards banquet and more, marking the first time Iowa State has hosted an in-person version of the event since 2010.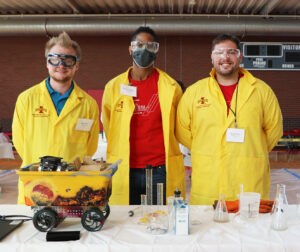 The Chem-E-Car competition, a popular activity at AIChE student conferences, saw an Iowa State team take first place for the third consecutive year. Participating schools vie for honors in a distance competition with small vehicles they have built that are powered and stopped by chemical processes.
The top three finishers in the regional competitions advance to the national competition, which will be held in Phoenix, Arizona in November. Iowa State's CyDuck team took first place in the ISU regional, with Oklahoma State's STEAMJUNK entry finishing second and Missouri S&T's Rocky 8.0 car grabbing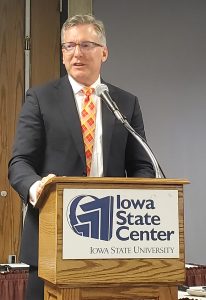 third. This marks the third straight year an Iowa State team has placed first in the regional competition the seventh straight year the ISU chapter will compete in the national event. Last year Iowa State took fifth in the national competition, the best result to date.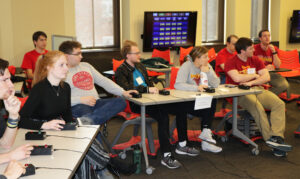 Events in the regional conference hosted by ISU also included a research poster competition, ChemE Jeopardy (a chemical engineering quiz based on the popular TV program), a technical presentation competition for students, technical presentations from faculty members and a panel discussion featuring industry leaders.
A banquet capped off the activities and featured a speech and Q&A session from CBE alumnus Mark Lashier, president and chief operating officer of Philips 66.
In addition to host Iowa State, institutions that took part in the conference included:
University of Arkansas
Benedictine College
University of Iowa
University of Kansas
Kansas State University
University of Missouri – Columbia
Missouri University of Science and Technology (Missouri S&T)
University of Nebraska – Lincoln
University of Oklahoma
Oklahoma State University
University of Tulsa
Washington University in St. Louis
Sponsors of the event included:
Cyclone Sponsors
Ajinomoto
Bayer
Emerson
Phillips 66
Pfizer
Renewable Energy Group
Cardinal Sponsor
Gold Sponsors
Burns & McDonnell
General Mills
Scale-Up Sponsors
View photo albums of conference events on the CBE Facebook page.