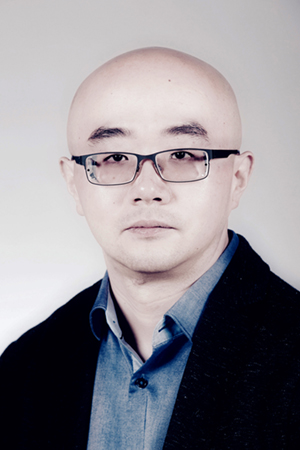 Yue Wu
Herbert L. Stiles Associate Professor
Main Office
2033 Sweeney
Ames, IA 50011-2230
Phone: 515-294-0702


Education
Ph.D. Chemistry, Harvard University, 2006
B.S. Chemistry, University of Science and Technology of China, 2001
Interest Areas
Advanced Nanomaterials Synthesis and Characterization
Nanostructured Materials for Waste Heat Recovery and Solid-State Cooling Through Thermoelectric Effect
Nanostructured Phase Transition Materials for Energy Storage
Two-Dimensional Nanomaterials for Thermal Interface
Nano-Mechanics
Research Projects
Our group addresses the challenges in broadly-defined bulk nanostructured composite materials. Our highly interdisciplinary research program includes the design, synthesis, characterization, assembly, and sintering of nanostructured materials; elucidation of the fundamental electronic, thermal, magnetic, mechanical, and other physical properties of these bulk nanocomposite materials; and exploration of new applications towards the highly-efficient harvest, storage, manipulation, and conversion of thermal energy. For details, please visit our group's website
here
.
Teaching Fall Semester 2017
Ch E 210, Material & Energy Balances (Section A)
Brief Biography
Honors and Awards
Miller Fellowship, University of California, Berkeley 2006-2009
DuPont Young Professor Award, 2010
Air Force Summer Faculty Fellowship, 2010, 2011, and 2012
One of the two invited speakers from United States (totally ten worldwide) for Japan Nano 2013 sponsored by Japan National Institute of Materials Sciences and Japan Ministry of Education, 2013
Materials Research Society (MRS) Graduate Student Gold Award, 2005
"2014 Emerging Investigators," selected by Journal of Materials Chemistry A (Materials for Energy and Sustainability) to recognize the very best work from materials chemists in the early stages of their independent career.
"Rising Star" selected by U.S. Council of Chemical Research, 2015.
Nanoscale Science and Engineering Forum Young Investigator Award from American Institute of Chemical Engineers, 2016.
Work Experience
2009-2014; Assistant Professor of Chemical Engineering, Purdue University (received an early promotion to tenured associate professor in April 2014).
2006-2009; Miller Research Fellow, University of California at Berkeley.
Professional Memberships
American Chemical Society
American Institute of Chemical Engineers
Materials Research Society
Selected Publications
Yang, Haoran; Finefrock, Scott W.; Caballero, Jonatan D. Albarracin; Wu, Yue* "Environmentally benign synthesis of ultra-thin metal telluride nanowires", Journal of American Chemical Society, 2014, 136, 10242-10245.
Yang, Haoran; Bahk, Je-Hyeong; Day, Tristan; Mohammed, Amr M. S.; Min, Bokki; Snyder, G. Jeffrey; Shakouri, Ali; Wu, Yue* "Composition Modulation of Ag2Te Nanowires for Tunable Electrical and Thermal Properties", Nano Letters, 2014, 14, 5398-5404.
Finefrock, Scott W.; Wu, Yue* "Inorganic Nanostructured Composite-based Thermoelectrics", invited review for Volume 6 of the Annual Review of Chemical and Biomolecular Engineering, 2015, 6, 247-266.
Yang, Haoran; Bahk, Je-Hyeong; Day, Tristan; Mohammed, Amr M. S.; Snyder, G. Jeffrey; Shakouri, Ali; Wu, Yue* "Enhanced Thermoelectric Properties in Bulk Nanowire Heterostructure-Based Nanocomposites through Minority Carrier Blocking", Nano Letters, 2015, 15, 1349-1355.
Sun, Yanming; Fang, Haiyu; Pan, Lujun; Han, Meng; Xu, Shen; Wang, Xinwei; Wu, Yue* "Impact of Surface-Bound Small Molecules on the Thermoelectric Property of Self-Assembled Ag2Te Nanocrystal Thin Films", Nano Letters, 2015, 15, 3748-3756.
Xu,Biao; Li, Haoyi; Yang, Hao; Xiang, Wentian; Zhou, Gang; Wu, Yue*; Wang, Xun* "Colloidal 2D-0D lateral Nanoheterostructures: a Case Study of Site-Selective Growth of CdS Nanodots onto Bi2Se3 Nanosheets", Nano Letters, 2015, 15, 4200-4205.
Lee, Jaewon; Zhu, Huazhang; Yadav, Gautam; Caruthers, James; Wu, Yue* "Porous Ternary Complex Metal Oxide Nanoparticles Converted from Core/Shell Nanoparticles", Nano Research, 2016, 4, 996-1004. Selected as Paper of the Month Prize.
Biao Xu, Matthias T. Agne, Tianli Feng, Thomas C. Chasapis, Xiulin Ruan, Yilong Zhou, Haimei Zheng, Je-Hyeong Bahk, Mercouri G. Kanatzidis, Gerald Jeffrey Snyder, Yue Wu,* "Nanocomposites from Solution-Synthesized PbTe-BiSbTe Nanoheterostructure with Unity Figure of Merit at Low-Medium Temperatures (500–600 K), " Advanced Materials, Vol. 29, Issue 3, January 25, 2017.  http://onlinelibrary.wiley.com/doi/10.1002/adma.201605140/full
Dr. Biao Xu, Tianli Feng, Matthias T. Agne, Prof. Dr. Lin Zhou, Prof. Dr. Xiulin Ruan, Prof. Dr. G. Jeffrey Snyder, Prof. Dr. Yue Wu,* "Highly Porous Thermoelectric Nanocomposites with Low Thermal Conductivity and High Figure of Merit from Large-Scale Solution-Synthesized Bi2Te2.5Se0.5 Hollow Nanostructures," Angewandte Chemie, Vol. 56, Issue 6, February 1, 2017. http://onlinelibrary.wiley.com/doi/10.1002/anie.201612041/full