The Department of Chemical and Biological Engineering (CBE) at Iowa State offers three graduate degrees: Doctor of Philosophy (PhD), Master of Science (MS), and the non-thesis degree Master of Engineering (MEngr). Click an image below to explore the degree program you desire.
While the Iowa State University Office of Admissions handles all admissions to Iowa State, each department at the university may have different requirements for graduate admissions.
The department offers prospective students an option of completing a pre-application form. It is optional and there is no application fee. A tentative admission decision will be communicated within one week to the email address you provide. If your pre-application is met with a tentative acceptance, the department will encourage you to apply through the Office of Admissions.
For more information, including CBE requirements, see the Graduate College chemical engineering page.



Research Areas
Iowa State conducts research in six general areas of chemical and biological engineering. If you're not sure which area is best for you, learn what research our faculty are doing.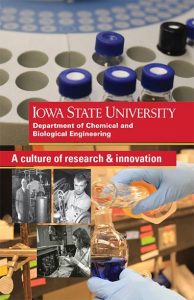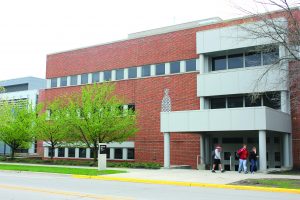 Facilities
The department offers outstanding facilities and resources that help students succeed in their academic and research endeavors. These include excellent laboratories, advanced computing environments and modern classrooms.
The department is housed in Sweeney Hall, which contains 44,000-plus square feet of modern laboratory and office space, including a series of advanced teaching laboratories. The state-of-the-art research facilities include laboratories for:
Atomic force microscopy
Biochemical and protein separations
Catalyst characterization
Cell and tissue culture

Chemical engineering research is also conducted in the Biorenewables Research Laboratory, which opened in 2008.

Chemical vapor deposition and reactive sputtering
Gene delivery
Particle imaging velocimetry
Particle size analysis and light scattering
Polymer characterization
Spectroscopic techniques
In the upgraded computing facilities for undergraduates, students use PCs on which they carry out simulations and write research and laboratory reports.
Iowa State University and the Ames Community make a great combination!

The beautiful and diverse Iowa State Univesity campus combined with the advanced and welcoming community of Ames, Iowa, make for a great place to live and conduct research. Ames is often at or near the top of many lists of the best U.S. communities to live in!
Graduate Program Alumni are Highly Successful
Alumni from Iowa State chemical engineering graduate programs have gone on to work for globally recognized companies and organizations, such as Cargill, Dow Chemical Company, 3M, Dow Corning Corp., Emerson Process Management, General Mills, Archer Daniels Midland Company, LyondellBasell and more. Alumni have even carried an entrepreneurial spirit with them after completing their Iowa State degrees:
Ankit Agarwal, 2007 PhD alumnus (left photo), started Imbed Biosciences, a Wisconsin-based company that develops advanced materials for wound healing
William Schroeder and Thomas Paskach, 2001 and 2002 PhD alumni respectively (right photo), co-founded Nitro Ice Cream (now franchised under Blue Sky Creamery) with their invention using liquid nitrogen to flash freeze ice cream. Paskach is now a senior lecturer in the Department of Chemical and Biological Engineering.
John Kaiser, 1987 MS alumnus (second from left), became global R&D director of cocoa/chocolate for Mars Chocolate.
Mark Lashier, 1989 Ph.D. alumnus (third from left), became president and CEO of Chevron Phillips Chemical Company, LLC.
The global academic community also has welcomed our graduates and their research advances. While dozens of graduate alumni now research and teach, here we name a few:
Deniz Uner, 1994 PhD alumna, is the professor and chair of chemical engineering at Middle East Technical University in Ankara, Turkey
Ganesh Sriram, 2004 PhD alumnus, is a member of University of Maryland's Clark School Academy of Distinguished Professors (Keystone)
James Halligan (BSChE'62, MSChE'65, PhDChE'67) is an Oklahoma senator and a former administrator at Texas Tech University (professor and chair), University of Missouri-Rolla (dean of engineering), University of Arkansas (engineering dean and interim chancellor), New Mexico State University (president), and Oklahoma State University (president)
George Burnet (BSChE'48, MSChE'49, PhDChE'51), is an Anson Marston Distinguished professor emeritus, former Iowa State department head, and former national president of the American Society of Engineering Education
Iowa State Chemical Engineering Recruits Come From Locations Worldwide

Iowa State chemical engineering graduate programs have attracted students from more than 100 universities throughout the United States and around the world. Many have recognized the leading chemical engineering research and land-grant philosophy Iowa State breeds. These ideals encourage practical approaches to chemical engineering problems and the sharing of knowledge among other U.S. states and countries around the world. In fact, Iowa State University was one of the first institutions founded on these ideals.
Sample of universities
ChE graduate students
move from

States and countries ChE
graduate students just move
to after Iowa State (Students have not yet originated from these locations)


States and countries
ChE graduate students move from
and move to after Iowa State

From U.S. States and Territories
Carnegie-Mellon University
Colorado School of Mines
Georgia Institute of Technology
Massachusetts Institute of Technology
Michigan Technological University
Northwestern University
Pennsylvania State University
Purdue University
Rensselaer Polytechnic Institute
Rutgers University
University of California, Davis
University of Illinois at Urbana-Champaign
University of Minnesota, Twin Cities
University of Pennsylvania
University of Wisconsin, Madison

International (Countries)


Australia
Canada
China
Colombia
Germany
India
Japan
Mexico
South Korea
Sri Lanka
Switzerland
Taiwan
Turkey
Ukraine
Zimbabwe
U.S. States and Territories
Arkansas
Connecticut
Idaho
Florida
Kentucky
Louisiana
Maryland
New Hampshire
Ohio
Oregon
Puerto Rico

International


Jamaica
Portugal
Singapore
United Kingdom

U.S. States and Territories


Arizona
California
Colorado
Illinois
Indiana
Iowa
Kansas
Massachusetts
Michigan
Minnesota
Missouri
Nebraska
New Jersey
New York
North Carolina
Pennsylvania
South Dakota
Texas
Virginia
Washington

International


China
India
Switzerland
Taiwan