Our Mission
Academic advising is an intentional, collaborative relationship based on trust and mutual respect. This relationship promotes the student's development of competence, autonomy, and sound decision-making skills. The goal of academic advising is an individualized academic experience for each student developed through a mentoring relationship.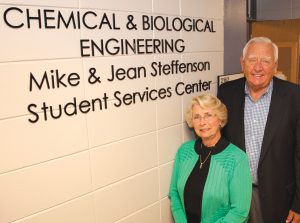 Mike & Jean Steffenson Student Services Center
Opened in 2013, the space in 2162 Sweeney is dedicated to meeting the advising needs of CBE students. It was made possible by the generosity of department supporters Mike & Jean Steffenson. CBE's three undergraduate academic advisors are located here.
Academic Advising
When you join the department, you will be assigned an academic advisor and this person will be your primary point of contact for advising needs and questions.
Student Services Staff
If you have an urgent matter and your advisor is unavailable, you may contact another advisor or staff person for assistance. Stop by the Mike and Jean Steffenson Student Services Center, call 515-294-7643, or email che-advising@iastate.edu for general advising needs.
Student Expectations
You are ultimately responsible for completing your degree plan. To assist you in tracking your progress toward degree requirements, a degree audit is available in AccessPlus. You should check your degree audit every semester to ensure that each course you have taken at ISU or transferred from elsewhere is applied to the correct curricular category or requirement. Your academic advisor can answer questions about your degree audit and, if necessary, submit requests for corrections.
Your academic advisor is here to assist you with the course registration process, consult with you on adding or dropping a course, answer your questions about university, college, and departmental policies and procedures, and guide you to campus resources. Email communication will be used by your academic advisor, and other CBE staff and faculty, to send notices about advising matters. For this reason it is important that you check your ISU email frequently.
Faculty mentoring
During the semester you are enrolled in ENGR 101 (new from High School students) or Ch E 202 (new transfer students), you will be assigned to a faculty mentor. Your relationship with your faculty mentor is another important resource to help you reach your academic goals. Your faculty mentor will consult with you about selecting electives that support your career goals, answer your questions about the profession of chemical engineering, provide guidance about applying to graduate school, and discuss any other issue with you that requires faculty expertise. While the department has planned meetings between you and your mentor during the semesters that you are enrolled in ENGR 101, CH E 202 and CH E 381, you are welcome to contact your mentor to arrange an appointment to discuss your professional and career goals at any time.
Contact information for faculty can be found here.