Sweeney Hall houses classrooms, computer laboratories, research and teaching laboratories, and departmental and staff offices. Sweeney Hall is located at 618 Bissell Road on the northwest side of the ISU campus. Building hours are Monday-Friday, 6 a.m. – 8 p.m., closed weekends and holidays.
Find Sweeney Hall on the Iowa State University campus map.
Conduct research in Sweeney Hall laboratories.
The instructional laboratories and additional faculty offices and research laboratories are located at the west end of Sweeney Hall. Take a look at the equipment in the laboratory area — you will probably see some equipment familiar to you, and you can find out about the unfamiliar items by asking any faculty member. You are invited to stop in at any of the research labs and ask about the research work in progress. Sweeney also contains a unit operations laboratory for undergraduates, where students conduct experiments in material and energy balances, momentum and energy transport operations, and thermodynamics. Click images below to preview some of our laboratories.
Research also is conducted in several interdisciplinary centers on campus.
Computer labs for students.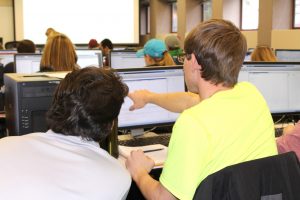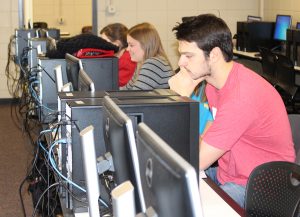 Computing capabilities in Sweeney Hall include 150 computer work stations, including the Reginald R. and Jameson A. Baxter Computing and Collaboration Lab and a multimedia student computation and collaboration center. For detailed computing information, see the Iowa State University Information Technology Services IT Portal.
See the College of Engineering IT site for troubleshooting information.
Quiet study areas are also available in Sweeney Hall.