The Department of Chemical and Biological Engineering recognizes selected alumni and their accomplishments through its Hall of Fame. Launched in 2013 as part of the department's centennial celebration, members are inducted on an annual basis, with a plaque in their name placed on the Hall of Fame wall in the lobby of Sweeney Hall and official recognition ceremonies. Those who have been inducted into the Hall of Fame are:
Class of 2013 (Inaugural)
Ronald Baukol, B.S. ChE '59
Ron Baukol has demonstrated exceptionally high achievement in academics, athletics, government, business, and community service. He earned his master's degree at Massachusetts Institute of Technology in 1960. In 1970 and 1971 he was a White House Fellow. And from 1966 to 2002 Ron excelled at 3M Company in the Health Care and International Operations divisions, finishing his 3M career as executive vice president of International Operations, and on the 3M Board of Directors. Throughout his career and retirement, and as a trustee of global organizations such as the Caux Round Table and the International Chamber of Commerce, Ron pursued the advancement of good institutional/corporate values and citizenship around the world.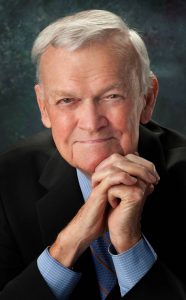 Reginald Baxter, M.S. ChE '49

With a master's degree from Iowa State, Reginald "Barney" Baxter developed a career in industry and entrepreneurship. He was president and CEO of CF Industries, Inc., from 1971 to 1985; chairman and CEO of Nimbus Medical Inc., from 1986 to 1988; and chairman and CEO of ASHTA Chemicals Inc., from 1991 to 2011. He now is chairman and CEO of Baxter Associates, Inc. originally providing management and financial advisory services and now holding private investments. He also is chairman and Director of B3 Systems, Inc., a comprehensive environmental consulting company. Iowa State applauds Barney's dedication to chemical engineering and a productive American society.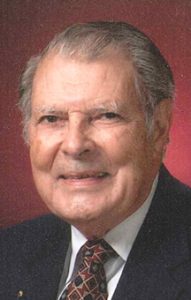 George Burnet, B.S. ChE '48, M.S. ChE '49, Ph.D. ChE '51

George Burnet has made valuable contributions to the Iowa State Department of Chemical and Biological Engineering, which has attained high national stature. For 35 years he dedicated his career to engineering education: department head, Anson Marston Distinguished Professor, interim dean of the College of Engineering, and many positions with the American Society of Engineering Education, including national president. After retiring as Anson Marston Distinguished Professor in 1995, George was granted emeritus status and has continued to contribute to the CBE department's success.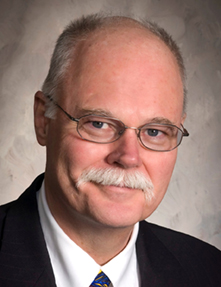 Wayne Dunshee, B.S. ChE '70, M.S. ChE '71

Wayne Dunshee has exhibited excellence and distinction in his 40-year career at 3M Company. He has been the primary or secondary inventor for most new products commercialized in consumer health care since 1982, including instant, reusable hot/cold packs and several modifications to adhesive and liquid bandages. He is not only an inventor but an implementer. As one colleague says, "Wayne is engaged beyond the technical part; he loves every aspect of the business – idea through scale-up through commercialization through marketing and sales."
After earning an Iowa State chemical engineering degree in 1958, Dale L. Fridley pursued a master's degree at Purdue University, and then began a 40-year career with Exxon in 1959. He served in a wide variety of technical, staff, and line management positions before becoming vice president of technology for ExxonMobil Chemical Company.  During his career, ExxonMobil Chemical grew into one of the largest and most profitable international chemical companies and became an industry leader in applying technology improvements and in integrating chemicals and refinery operations.  Fridley led the CBE Industrial Advisory Council from 1994 to 2000, contributing valuable industry knowledge to management issues and practices.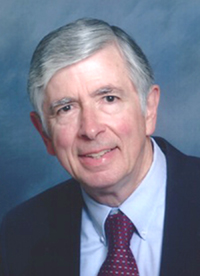 Kenneth L. Garrett, B.S. ChE '64

Kenneth L. Garrett had an exceptional 30 years with AT&T culminating in his position as senior vice president responsible for AT&T's networks in a period of unprecedented growth and transformation. In mid-career he was selected by AT&T and Massachusetts Institute of Technology for a Sloan Fellowship at MIT. Following retirement from AT&T he established a successful consulting practice, provided leadership to three LLC's investing venture capital in start-ups, and made service to others a priority through significant volunteer leadership in non-profit organizations. With tremendous success in industry, the CBE department also honors Kenneth for his investment in Iowa State student success.
Robert Gerwig is a beacon of chemical engineering in the petroleum industry. He earned his bachelor's degree in chemical engineering at Iowa State in 1952. Following a brief stint at Hercules and the Midwest Research Institute, Bob earned masters and doctorate degrees in business economics at the University of Chicago. Bob dedicated the next 35 years to Conoco, where he rose through the ranks to become executive vice president and president of chemical operations. He has been a dedicated and award-winning supporter and friend of Iowa State, serving on the chemical engineering industrial advisory council and investing in the department and university.
Bruce Grasser exemplified a chemical engineering student athlete as a four-year lineman for the 1959-1963 Iowa State Cyclones football teams. After achieving his dream of earning an Iowa State chemical engineering degree in 1964, the Ohio native returned home to work for Goodrich-Gulf Chemicals and then the Lubrizol Corporation. While at Lubrizol Bruce earned an MBA degree from Case Western Reserve University. Success at Lubrizol led him to become managing director of mergers and acquisitions, a position he retired from in 2007. Iowa State football and chemical engineering, Bruce says, have provided his family a fulfilling life.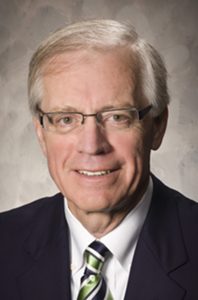 Gary L. Griswold, B.S. ChE '67

Gary L. Griswold built a distinguished 40-year career in intellectual property law and management at 3M and DuPont. After receiving his Iowa State degree, he obtained a master's degree in industrial administration from Purdue University and a Juris Doctor with honor from the University of Maryland. After law school, he practiced intellectual property law at 3M, managed 3M's Dental Products Division, became 3M's Chief Intellectual Property Counsel and ultimately was named president of 3M Innovative Properties Company. Gary was instrumental in the enactment of the America Invents Act in 2011. He also has assisted Iowa State as a member of the College of Engineering's and CBE's advisory committees.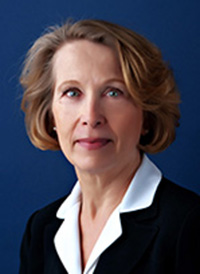 Mary Jane Hagenson, B.S. Physics '74, M.S. Biomed Engr '76, Ph.D. Biomed Engr '80
Mary Jane Hagenson's achievements in science and engineering have been a remarkable mix of technical advancements and inspirational leadership. In 1984 she began a successful 27-year career with Phillips Petroleum Company, ultimately advancing to vice president of research and technology for Chevron Phillips Chemical Company. She has dedicated service to Iowa State as a member of the College of Engineering Advisory Council, Chair of the Chemical Engineering Industrial Advisory Council, and governor of the Iowa State University Foundation. She also actively invests in academic excellence through scholarships and professorships.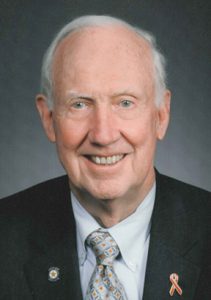 James Halligan, B.S. ChE '62, M.S. ChE '65, Ph.D. ChE '62

James Halligan has excelled in academics and national politics as a chemical engineering graduate of Iowa State bachelor's, master's and doctorate programs. For nearly 40 years, James served in various roles in higher education: professor and chair at Texas Tech University, dean of engineering at the University of Missouri-Rolla, engineering dean and interim chancellor at the University of Arkansas, president at New Mexico State University, and president at Oklahoma State University. In 2008 he was elected an Oklahoma state senator,  where he served the 21st Senate District. He has demonstrated the great roles chemical engineering can play in both academia and society.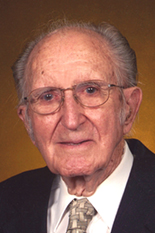 Manley R. Hoppe, B.S. ChE '32, M.S. ChE '35

After receiving his bachelor's and master's degrees from Iowa State, Manley spent a year on the chemical engineering department's faculty working with Dr. Sweeney. He then began his 70-year career with Parr Instrument Company. During World War II he accepted a commission in the U.S. Army Chemical Corps and served as the officer-in-charge of the Incendiary Bomb Plant at the Rocky Mountain Arsenal. In addition to his technical and managerial responsibilities at Parr, Manley also served in multiple leadership roles within the scientific apparatus industry and his community. He endowed the Manley R. Hoppe Professorship in Chemical Engineering. Jacqueline Shanks became its first recipient in 2009.
Allen Jacobson was an exemplary employee of 3M Company throughout his entire career. He advanced from 3M's Scotch tape laboratory to company chief executive officer during an illustrious 45 years there. In the company's top position he grew revenue from $8.6 billion in 1986 to $13 billion at retirement in 1992, capturing the March 1988 cover of Fortune magazine that saluted 3M's commitment to innovation. A member of the National Academy of Engineering, Allen's contributions to the CBE department have allowed many undergraduates and graduate students valuable practice in industry-leading processes.
James Katzer's achievements include a remarkable mix of academic and industrial excellence. He was an international leader in catalysis and reaction engineering. After graduating with the College of Engineering's top GPA in 1964, he earned a doctorate at MIT. He served on the faculty at University of Delaware for 13 years, making extraordinary contributions as a teacher and scholar, while also founding Delaware's Center for Catalytic Science & Technology. Jim spent the remainder of his career at Mobil Oil Corporation, and later ExxonMobil, where he retired as Vice President for Technology. As a member of the National Academy of Engineering, Jim was a longtime supporter and friend of Iowa State, serving as an affiliate faculty member, chairing the industrial advisory board, and investing in student success.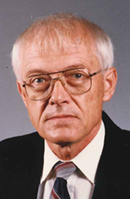 Maurice A. Larson, B.S. ChE '51, Ph.D. ChE '58

Maurice A. Larson became a renowned researcher with an international reputation in crystallization. As a bachelor's graduate from Iowa State, Mauri began his teaching career as a graduate assistant in the program in 1954. After earning a doctorate in 1958, he began a professorial career that lasted nearly 40 years, including an Anson Marston Distinguished Professor honor and department chair role. Known as "Mr. Crystallization" to colleagues around the world, Mauri "laid the foundations for modeling of crystal size distributions…virtually all chemical engineering research groups throughout the world base their theoretical development on these techniques," one colleague said.
Charles Lettow took an unusual career path as an Iowa State chemical engineering alumnus.  For him, engineering has been significant in "deciding disputed matters with a technical focus."  After graduation, Charles served in the Army and then graduated from Stanford Law School. Clerkships with a federal circuit judge and Chief Justice Warren Burger followed, as did work as counsel for the Council on Environmental Quality, Executive Office of the President.  A litigator, he now sits as a judge of the U.S. Court of Federal Claims. Charles' national legal role and concern for human welfare make him an exceptional Iowa State alumnus. In 2016 he was presented with the department's Distinguished Alumni Award.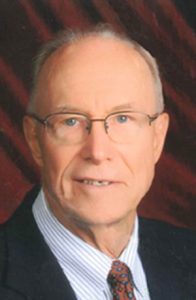 John G. McDonald, B.S. ChE '57

John G. McDonald was an important leader in the petroleum industry. In 1960, after serving in the U. S. Navy, John started a career at The Standard Oil Company, ultimately becoming executive vice president of BP America (formerly Standard Oil Company) and President of BP Oil (U.S.).  He held positions in engineering, corporate planning, chemicals and plastics, petroleum refining, marketing and transportation.  He retired in 1992. John's community involvement is equally impressive Boys & Girls Clubs, Youth Opportunities Unlimited, United Way and Cleveland Opera.  He is a member of Acacia Fraternity, Barrington Golf Club and enjoys singing in church choir. His experiences best demonstrate the diverse role a chemical engineer serves.
Nicholas Reding is a longtime leader in the national agriculture industry. Upon graduating from Iowa State in 1956, he began his career at Monsanto Company and enrolled in Stanford University's advanced management master in business administration program. Nicholas began traveling the world with Monsanto, including an assignment in Belgium, which prepared him for global business management. In the 1980s, he served as president of Monsanto's global agricultural business, adopting biotechnology developments and roundup in world markets. Later he was vice chairman of the board at Monsanto. Throughout his career, Nicholas has participated in many community causes, demonstrating his humanitarian spirit.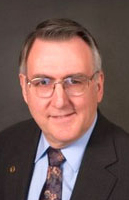 Lanny Robbins, B.S. Ch.E. '61, M.S. ChE '63, Ph.D. ChE '66

Lanny Robbins' innovative chemical methods have garnered him exemplary status in the chemical engineering industry. For 37 years he developed countless diverse processes at The Dow Chemical Co., securing patents in water purification, plant design, and more. He became a coveted senior research scientist among the talented Dow research staff. After retiring from Dow as research fellow in 2003, he pursued interests as an engineering consultant at Larco Technologies, LLC, as well as vice president and chief technology officer at Gantec, Inc. Iowa State is supremely honored to call him, a National Academy of Engineering member, an alumnus.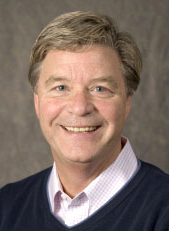 Jerald L. Schnoor, B.S. ChE '72

In his role as distinguished faculty member at the University of Iowa, Jerald Schnoor champions engineering with concerns for global change and sustainability. His cross-disciplinary interests in civil/environmental engineering and chemical engineering have garnered him honors from the National Academy of Engineering, U.S. Environmental Protection Agency and the National Institutes of Health. Considered one of the founders of phytoremediation, Jerald serves as editor-in-chief of Environmental Science and Technology, the world's leading environmental technology journal. Iowa State is proud to call him an alumnus.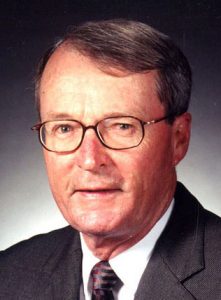 Richard (Dick) Seagrave, B.S. ChE '59, Ph.D. ChE '61

Dick Seagrave pursued his career well beyond the scope of chemical engineering. Following his master's degree, doctorate and postdoctoral experiences, he began his professorial career in Iowa State's Department of Chemical Engineering. From there he strengthened his advocacy in teaching, student advising, and biomedical engineering research that touched many disciplines and activities throughout and outside of the university. These roles led Dick to become a distinguished professor and chair of chemical engineering, as well as interim provost and president of Iowa State, placing chemical engineering and his education passion at the forefront of Iowa State's mission.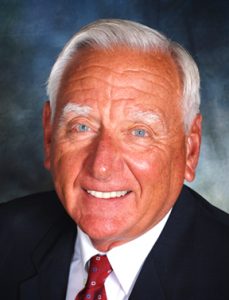 Michael R. Steffenson, B.S. ChE '59

Mike Steffenson has had a continuing association with Iowa State's chemical engineering department. During his career of more than a half-century, Parr Instrument Company has continuously expanded its line of high-pressure reactors for catalytic and related reactions. His work in developing international markets for these research tools was recognized with the U.S. Department of Commerce's "E" and "E Star" awards – the country's highest awards for export excellence. Mike was recognized with Iowa State College of Engineering's Marston Medal and the Iowa State Alumni Medal. He and his wife endowed the Mike and Jean Steffenson Professorship in Chemical Engineering. Brent Shanks became its first recipient in 2010.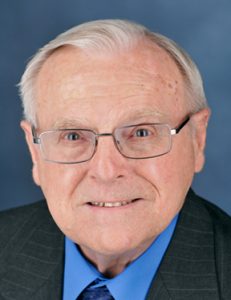 G. Paul Willhite, B.S. ChE '59

Paul Willhite is one of the most accomplished chemical engineers in academia. His role in advancing tertiary oil recovery processes has been recognized through the country's highest engineering honor – member of the National Academy of Engineering. With a doctorate from Northwestern University in 1962, he spent the next seven years as research scientist and senior research scientist at Continental Oil Co. Since 1969 he has dedicated a life of research and teaching to the University of Kansas, advancing to Ross H. Forney Distinguished Professor of Chemical and Petroleum Engineering as well as co-founder and co-director of the Tertiary Oil Recovery Project.
Class of 2014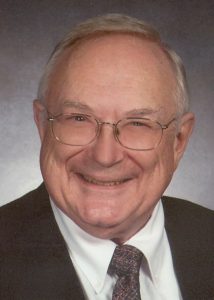 Joe D. Cunning, B.S. ChE '58, M.S. ChE '62, Ph.D. ChE '65

Energy and vision capture the essence of Dr. Joe Cunning's career and his commitment to exploratory, long-range fiber research. He graduated from Iowa State University with a Ph.D. in chemical engineering in 1965. He has continued his connection with Iowa State, from being awarded the College of Engineering's Professional Achievement Citation in Engineering in 1988 to currently serving on the Iowa State University Foundation's Board of Governors. Cunning spent 28 years with the DuPont Company, working in research and development of different fiber types. Since 1991 he has been President of Cunning & Associates, Ltd., which provides consulting services for the textiles research and development community.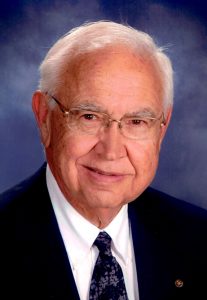 Judson M. Harper, B.S. ChE '58, M.S. Food Technology '60, Ph.D. Food Technology '63

Judson M. Harper began his journey as an expert in food technology and the extrusion process of foods at Iowa State University, where he received a B.S. in chemical engineering in 1958; an M.S. in food technology & bacteriology in 1960; and a Ph.D. in food technology (with minors in chemical engineering and mechanical engineering) in 1963. He worked for General Mills in the 1960s before joining Colorado State University in 1970 as Professor & Department Head in the Department of Agricultural & Chemical Engineering. There he served a 20 year stint as Vice President for Research greatly expanding research initiatives and facilities, while also serving as Interim President to the university. In 2002 he was designated Emeritus Professor of Chemical and Biological Engineering at Colorado State, a department he initiated. Harper retired in 2004.
Class of 2015
Terry S. King received a B.S. in chemical engineering from Iowa State in 1975 and his Ph.D. from the Massachusetts Institute of Technology in chemical engineering in 1979. From 1979 to 1982 he worked at Exxon Chemical Company. He began his professional academic career in 1982 at Iowa State University in the Department of Chemical Engineering. He was promoted to professor and then served as department chair from 1990-1997. He conducted research leading to over 150 peer reviewed publications and invited presentations, holds three patents and has received grants primarily from the Department of Energy and the National Science Foundation. He supervised seven master's students, 12 doctoral students, seven post-doctoral associates, and two visiting scientists. Subsequent to his years as department chair at Iowa State, Dr. King served nine years as the Dean of the College of Engineering at Kansas State University. He is now at Ball State University as Provost and Executive Vice President for Academic Affairs, and has served as acting president.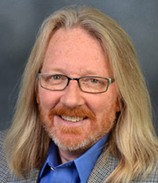 W. Mark Saltzman, B.S. ChE '81

Mark Saltzman is an engineer and educator. His research has impacted the fields of drug delivery, biomaterials, nanobiotechnology, and tissue engineering. He is the sole author of three textbooks. Saltzman graduated with distinction from Iowa State University with a B.S. in chemical engineering (1981). He received an S.M. in chemical engineering (1984) and a Ph.D. in medical engineering (1987) from MIT. He has served as a faculty member at Johns Hopkins, Cornell, and Yale. He was appointed Goizueta Foundation Professor of Chemical and Biomedical Engineering at Yale and served as the founding chair of Yale's Department of Biomedical Engineering from 2003-2015. He has been recognized widely for his excellence in research and teaching. Among his awards are the Professional Progress in Engineering (2000) and Professional Achievement Citation in Engineering (2013) from Iowa State.
Class of 2016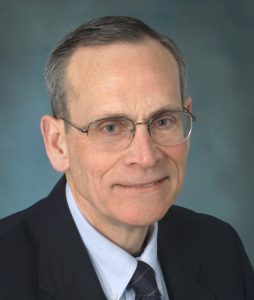 Michael D. Brady, B.S. ChE '65
Process and materials analysis and innovation characterizes Dr Michael Brady's career at 3M, Imation (spun off from 3M), Corning Glass and in consulting. He graduated from Iowa State University in 1965 with a B.S. in Chemical Engineering and went on to earn a Ph.D. at Oregon State University in 1969. At 3M he invented trade secret processes for coating water based adhesives; fused coating on carpet fibers; worked in processes for reflective highway signs, X-ray film and screens and color proofing materials for printing. At Corning Glass he worked in trade secret processes as well as patented processes of cellular ceramics for automotive catalytic converters and diesel particulate filters. He holds more than 20 patents worldwide and many of his trade secret processes are still being employed. He helped establish the NSF Coating Center of Excellence at University of Minnesota and the Microelectronics Center at ISU.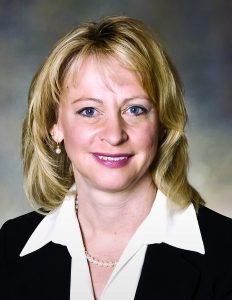 Gayle A. Roberts, B.S. ChE '81
Gayle A. Roberts, P.E., is President and Chief Executive Officer of Stanley Consultants, a global engineering firm based in Muscatine, Iowa.  She graduated from Iowa State University in 1981 with a B.S. in chemical engineering, and earned an M.B.A. from St. Ambrose University in 1991. She joined Stanley Consultants in 1981. In 2007 she was elected the fifth president in the company's history and its first female president. In 2012 she was elected chief executive officer. She is a champion of women in engineering, regularly encourages young women to consider the field, and has won numerous awards for her efforts. She is also a recipient of the Professional Achievement Citation in Engineering (PACE) Award from the Iowa State University Alumni Association. She served three terms on the Department of Chemical & Biological Engineering Advisory Council, including the role of president. She also served on the board of the University's Engineering Policy and Leadership Institute.  In 2017 she was elected to a two year term as vice-chair of the American Council of Engineering Companies.
Class of 2018
Timothy J. Anderson, B.S. ChE '74
Timothy J.  Anderson's 40-year career in academia is marked by exceptional service and leadership as a teacher, researcher, administrator and thought leader in engineering education and research. After earning degrees at Iowa State University and the University of California, Berkeley, he joined the Chemical Engineering Department at the University of Florida and was promoted through the ranks to Distinguished Professor. He served as Department Chair and then Associate Dean of Research and Graduate Programs, before being named Dean of Engineering and Distinguished Professor at the University of Massachusetts, Amherst. Tim Anderson's impact is evident in his scholarship with more than 260 publications, student mentoring of more than 70 Ph.D. students, and service as editor to several journals, including 19 years with Chemical Engineering Education. His efforts have been recognized with the Warren K. Lewis Award for Chemical Engineering Education, the AIChE Charles M. A. Stine Award, and the PACE Award and Anson Marston Medal from Iowa State University College of Engineering, which he received in October of 2018, the day after his CBE Hall of Fame induction.
Class of 2021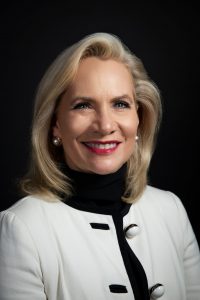 Lori Ryerkerk, B.S. ChE '83
Lori Ryerkerk (B.S., chemical engineering, 1983) is a superstar of the petrochemical industry.
Her attributes include outstanding technical leadership, excellent business acumen, superb communication skills, and a continuous emphasis on developing people and increasing diversity and inclusiveness in a historically male-dominated field.
Lori began her career as a process engineer in a refinery and rapidly ascended through the ranks in several petrochemical companies, including Exxon, ExxonMobil, Hess and Shell, while taking on roles with ever increasing responsibility and leadership.
In 2019, Lori was named President and Chief Executive Officer and then, in 2020, Chair of Celanese Corporation, a Fortune 500 technology and advanced materials company.
Class of 2022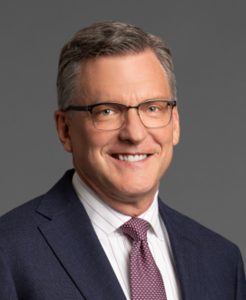 Mark Lashier, B.S. ChE'85, Ph.D.ChE'89
After earning both B.S. and Ph.D. degrees in chemical engineering from Iowa State University, Mark Lashier has amassed a career of accomplishment and impact in the energy industry.
Starting out as an associate research engineer for Phillips Petroleum Company, he rapidly advanced to take on various leadership roles in the U.S. and abroad, ultimately being named President and Chief Executive Officer of Chevron Phillips Chemical Company in 2017.
In April of 2021 he was named President and Chief Operating Officer of Phillips 66, before being named President and Chief Executive Officer in 2022. His professional accomplishments are paired with a longtime engagement and leadership of various civic and professional boards and nonprofits.