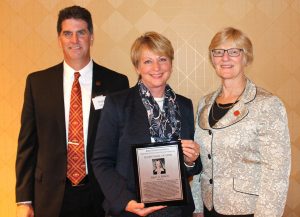 Gayle A. Roberts, P.E., an Iowa State University Chemical and Biological Engineering alumna, was officially inducted into the department's Hall of Fame during a banquet April 12. Since 2007 Roberts has been president of Stanley Consultants, a global engineering firm that provides planning, design, consulting, construction and management services to clients around the world. She is the fifth president in the company's history and its first female president. In 2012 she was also elected chief executive officer.
Roberts graduated from Iowa State University in 1981 with a B.S. in Chemical Engineering, and earned an M.B.A. from St. Ambrose University in 1991. She is a licensed professional engineer in seven states and Puerto Rico.
After joining Stanley Consultants in 1981 she has achieved more than 30 years of experience in the consulting engineering industry. Throughout her career she has eagerly accepted new and challenging assignments. This enthusiasm led her to positions as resident engineer, project manager, market leader, and business leader.
She is a longtime champion of women in engineering and regularly encourages young women to consider the field as a viable and exciting career choice that holds many opportunities. She has been recognized for these efforts, as well as her contributions to the engineering industry, with multiple awards including: Athena Award from The Women's Connection; Upward Mobility Award from the Society of Women Engineers; Professional Achievement Citation in Engineering (PACE) Award from the Iowa State University Alumni Association; Woman of Influence Award from the Corridor Business Journal; Voice of the Engineer Award from the Iowa Engineering Society; 50% Solution Award from the Iowa Women's Foundation; and the Large Company Innovation and Leadership Category of the Iowa Women of Innovation Award from the Technology Association of America.
She is currently a member of the Executive Committee of the American Council of Engineering Companies Design Professionals Coalition; a past President of the American Council of Engineering Companies of Iowa and currently serves as the organization's National Director; and served from 2012 to 2015 as a Director of Engineers Without Borders – USA and as a member of the Development Committee.
Her service to Iowa State University includes three terms on the Department of Chemical and Biological Engineering Advisory Board, including one term as president.  She also served on the board of the University's Engineering Policy and Leadership Institute. She is also a member of Rotary International, the Iowa Engineering Society, the American Council of Engineering Companies (ACEC), and the Society of American Military Engineers (SAME).
She joins Michael D. Brady, who entered the CBE Hall of Fame in the fall of 2016, as this year's inductees.
The Department of Chemical and Biological Engineering recognizes selected alumni and their accomplishments through its Hall of Fame. Launched in 2013 as part of the department's centennial celebration, members are inducted on an annual basis, and recognition includes a plaque in their honor placed on the Hall of Fame wall in the lobby of Sweeney Hall.