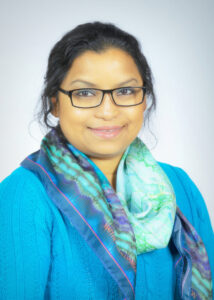 Iowa State University's Department of Chemical and Biological Engineering (CBE) welcomes its newest faculty member, Rizia Bardhan. Bardhan has a passion for using nanotechnology to fight diseases using new nanomaterials and imaging-guided techniques. Coinciding with her hire at Iowa State is news that research from her group has been recently published in two scientific journals.
Immunotherapies have changed the way that researchers and patients think about cancer therapy, which is why just two years ago the Nobel Prize in Medicine was awarded to two researchers who pioneered this field. However, a major problem remains – only about 25% of patients respond to immunotherapies.
In a paper recently published in the prestigious journal ACS Nano, "Multimodal Multiplexed Immunoimaging with Nanostars to Detect Multiple Immunomarkers and Monitor Response to Immunotherapies," (view here) Bardhan and her team demonstrated a way to overcome this challenge. By combining two medical imaging techniques that are widely used in guiding clinical therapies, namely Positron Emission Tomography (PET) and Raman spectroscopy, Bardhan's team showed they could use imaging to identify those who will respond to immunotherapies even before treatment begins. And after treatment starts, they show these techniques can also evaluate the effectiveness of immunotherapies.
"Specifically, blocking of the immune biomarker programmed cell death protein 1, PD-1, and its ligand, PD-L1, via antibodies, has shown tremendous benefit, and this treatment is now FDA approved," said Bardhan.

This important immune biomarker, which exists at high concentration in many tumors, has proven challenging to detect. Bardhan notes that current clinical screenings for PD-L1 alone do not provide an accurate measure of whether a patient will respond to this therapy or if treatment is working because of significant variabilities in PD-L1 expression among patients and within the same patients' multiple tumor sites.The "secret sauce" of their technique? Tiny particles that are about 500 times smaller than a strand of human hair. These particles, called gold nanostars, were labeled with antibodies to target the immune biomarkers, radiotracers for detection with PET imaging, and small molecules which can be monitored by Raman spectroscopy. These tiny nanoparticles can then enable the detection of the tumor expressing PD-L1 immune biomarkers and also immune cells called cytotoxic T lymphocytes in vivo before and after treatment.  This allows them to simultaneously evaluate if the immunotherapies are boosting the immune system and also decreasing tumors."The study was performed in two different melanoma mouse tumors – one that responds to immunotherapy, and one that does not. Our novel imaging probe allowed us to distinguish responders from nonresponses early in the immunotherapy regimen," Bardhan said.
Her expertise in this area is also highlighted in another paper that was recently published in Trends in Biotech entitled "Cancer Immunoimaging with Smart Nanoparticles" (view here) that broadly describes the promise and challenges of nanoparticles for both accurate imaging and clinical translation.
Going forward, Bardhan sees a future where very precise design of imaging techniques and therapies can identify and fight disease at early stages before becoming life-threatening. "Growing up in a country where I saw how much the lack of infrastructure for early diagnosis of diseases led to high mortality rates in patients, was my key inspiration to pursue this area," she remarked.