The Department of Chemical and Biological Engineering's 2019-20 Graduate Seminar Series has begun, and will again provide a showcase of current chemical engineering research from some of the nation's leading scientists.
The seminars are part of the required curriculum for chemical engineering graduate students, but are open to all Iowa State graduate and undergraduate students, faculty, staff, post-doctoral researchers and scientists, and may be of interest to faculty and students in other College of Engineering departments.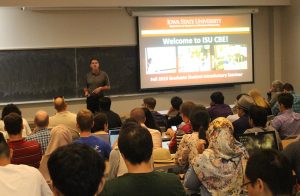 Yue Qi, Michigan State University Chemical Engineering and Materials Science, will present her research in lithium-ion battery durability September 12; Vladimir Alvarado, University of Wyoming Chemical Engineering, will discuss water-oil interfacial dynamics September 19; and Jennifer Reed, University of Wisconsin-Madison Department of Chemical and Biological Engineering, will round out the September presentations with Systems Approaches for Engineering Microbial Biocatalysts.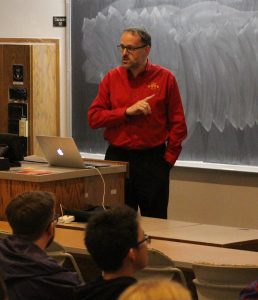 In October, Scott Trener of Milliken & Company will discuss enhancing polypropylene and recycled polypropylene; Christine M. Hrenya, University of Colorado Boulder Chemical and Biological Engineering, will present a lecture titled "Attractive Couples Break Up Unexpectedly."
The series will also feature CBE's own graduate students, as the Perfect Pitch competition will take place for the third consecutive year during the fall semester. Students provide shotgun summaries of their research in strictly-times presentations and vie for top honors.
The Seminar Series will continue in the spring semester, with guests and topics currently being arranged.
See the schedule here, and check back often for updates.