There's one thing Brent Shanks (pictured above) wants you to understand about the future of the Center for Biorenewable Chemicals, better known as CBiRC: "We have no intention of going away. We have a different way of looking at biobased chemical problems and how to address them, and there is a big demand for it."
Founded in 2008 with funding from the National Science Foundation, CBiRC has become a world leader in producing chemicals derived from biomass resources as a viable alternative to chemicals derived from petroleum. By design, the 10-year funding program from NSF has now come to an end. But that doesn't mean there's an end in sight for CBiRC.
"It's important to note that CBiRC is coming to an end as an NSF Engineering Research Center. The NSF designation will disappear from our name. But we are working with other funding sources and our mission will continue," says Shanks. One big change: Instead of performing all work through NSF support, CBiRC is now reaching out to other agencies and facilities in collaborative ventures. For example, CBiRC has become a subcontractor for work done by the Joint BioEnergy Institute led by Lawrence Berkeley National Laboratory, and there is a grant from the Department of Energy that is being employed. Shanks says even the Department of Defense is interested in the kind of projects CBiRC is involved in.
Shanks, Anson Marston Distinguished Professor in Engineering and Mike and Jean Steffenson Chair, came to Iowa State from a petrochemical background. "So, I had biases," he admits. "When CBiRC started I said, 'We must create biomass-derived molecules that are direct replacements for molecules from petroleum.' In retrospect, that may have been short-sighted on my part."
When the price of crude oil tanked, there was suddenly little economic justification for creating bio-derived molecules that would simply replace what is produced from crude oil. It led to the most pivotal change in CBiRC's research, and one that still guides its mission today – the development of what Shanks dubbed "bioprivileged molecules." Instead of the conventional way of tweaking one molecule at a time to do single things, the concept of bioprivileged molecules involves creating all-new molecules from which different variations can be easily crafted. This opens up a whole new avenue of options for industry. Shanks makes a quick drawing on a white board to illustrate. He basically draws a "hub and spoke" design, in which the bioprivileged molecule sits in the center and the spokes each lead to a differently-tuned variation of that molecule. "We can create this entire library of new molecules and send them to an industrial collaborator all at once. Then they have a wide variety of molecules they can test to see which performs best for their specific consumer product."
The ramifications are huge: "This has reframed our entire mission," says Shanks. "And through this we've connected CBiRC to new partners and that has resulted in grants to allow development of new concepts."
Out of necessity, Shanks often takes off the "scientist" hat and replaces it with that of "economist/business analyst." He says, "We are creating and searching for new bioprivileged molecules all the time. The last time the petroleum industry commercialized a new molecule was 25 years ago." Like any good businessman, he also examines the competition. He points out there are facilities called biological foundries that are also creating molecules for industry – but with a big difference. "These are based exclusively on biology. You have to manipulate an organism – a life form – to get what you want. To do this, you need to have a living organism for each and every molecule you want to make. While elegant, it's an inefficient way of searching for new molecules. With bioprivileged molecules, all you have to create is one key intermediate molecule, and then you test variations of it from there. Much more practical."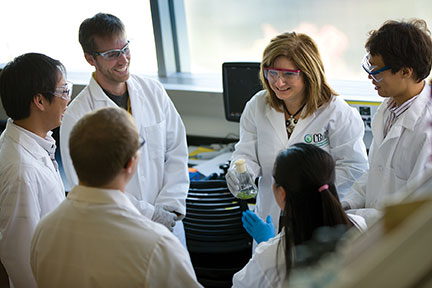 During the past several years, CBiRC added two new Iowa State Department of Chemical and Biological Engineering faculty members to its research team: Associate Professor Zengyi Shao (a recipient of the NSF CAREER Award in 2018) and Associate Professor Jean-Philippe Tessonnier. Other members of the department have also played integral roles within CBiRC. Manley R. Hoppe Professor Jacqueline Shanks was part of the original CBiRC leadership team and was responsible for organizing research efforts in microbial metabolic engineering. Associate Professor Laura Jarboe has been a member of CBiRC from its inception and was co-leader of the microbial metabolic engineering area during the second five-year period of the center.
In Shanks' opinion, the quest for new bio-based molecules isn't about to subside. "Do we have all the new organic molecules we need? Are we done? The answer is no. There is a huge market out there. Pharmaceuticals. Antimicrobials. Insecticides. Herbicides. Polymers. Lubricants. Some of the traditional chemical substances in products like these are being shown to have significant environmental impacts. There is a great desire to develop environmentally friendly and effective new molecules for use in many consumer products. We're ready to address that."