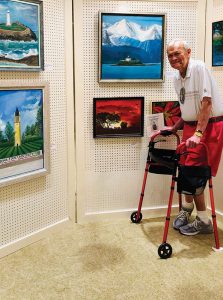 Department of Chemical and Biological Engineering alumnus Reginald R. "Barney" Baxter made a career running businesses of his own and helping to manage others. Now, in retirement, he's embracing the endeavor of creating portrait paintings. It's a hobby he picked up in retirement. And it's proof that it's never too late to start a new pursuit.
Baxter, who received an M.S. in chemical engineering from Iowa State in 1949, with his wife Jameson (Jamie), is a longtime supporter of the department. Their giving has made possible the CBE Reginald R. Baxter Endowed Department Chair, held by Andrew Hillier, the Reginald R. and Jameson A. Baxter Computing and Collaboration Lab, the Reginald R. and Jameson A. Baxter Graduate Fellowship, and others.
Barney is the retired chairman and CEO of business management consulting firm Baxter Associates in Palatine, Illinois, and has been involved with numerous other business ventures as both an employee and an advisor. But painting is something that previously only meant buying works created by others.
Acknowledging that he "had already failed at retirement," Barney says, "When I stopped working, I wanted to retire to something and not from something. I was recovering from open heart surgery and had time to think about what to do with the rest of my life. Painting seemed like a natural thing with my background in engineering and the drawing and drafting that is required in that field. I have been a collector of art all my adult life, and asked myself, 'Why can't I do that?'" Barney and Jamie moved to Florida and he quickly found a supportive environment for his painting in the community where they reside, in the form of a very active art group. "You don't know until you try," Barney says. "I was satisfied with my early efforts and soon I became a student of art, taking many classes."
His works are displayed online (under the name "Barney the Artist" at barneytheartist.shutterfly.com), in his home and in the homes of family and friends, but they are not for sale. For him, the reward is in the creation of the works and in sharing them.
Baxter prefers painting subjects found in nature. But Iowa State University's iconic campanile became the subject in one painting (displayed in photo at left) that was created for a special recipient: Sarah Rajala, who recently retired as James L. and Katherine S. Melsa Dean of Engineering at Iowa State.
Baxter, who co-authored a book called "Manage the Personality, Not the Person," is now writing his personal memoirs. His canvas is still being filled. With many colors.