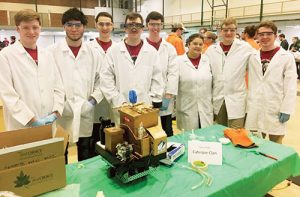 For the fourth consecutive year, an Iowa State University team will be taking part in the national Chem-E-Car competition with the American Institute of Chemical Engineers.
CBE entered two teams in the regional Chem-E-Car competition at the AIChE Mid-America Student Regional Conference at Missouri University of Science and Technology, which features student-designed miniature vehicles that are both powered and stopped by chemical reactions. Cars compete for the longest distance traveled from the start line to when the car stops.
Team "Caterpie Clan" claimed a third place finish in the competition and advanced to the nationals at the Annual AIChE Student Conference in November in Orlando, Florida.
"The car runs on a hydrogen fuel cell with a reaction of sodium hydroxide and aluminum as the hydrogen source," explains Stephanie Loveland, associate teaching professor and Chem-E-Car faculty advisor. "The stopping mechanism is the decomposition of hydrogen peroxide using potassium iodide as the catalyst. It produces oxygen as a product, and the oxygen was used to displace an electrolyte solution that completed a circuit between two copper electrodes. When the electrolyte is displaced, the resistance between the electrodes suddenly increases, and this sends a signal that cuts power to the motor."
Team Caterpie Clan also placed first in the Chem-E-Car poster competition. ISU's team "Golden Galvantulas" also showed well, netting a fifth-place finish in the distance competition.
Martin Asama (B.S., 2019) also kept ISU in the spotlight when he finished first in the conference research poster competition for his project "Coextrusion of Coated Frozen Desserts."